图像
Introductory sentence on your organisation:
The Guyana Sex Work Coalition (GSWC) is a non- profit, non- governmental organisation that was established on the 11th October, 2008. The GSWC is one of the first established sex worker-led organisations in the Caribbean.
Tell us about your organisation
Vision
Empowering and Organising Sex Workers towards Achieving and Maintaining Progressive Self- Development and Increased HIV Preventative Actions.
Mission Statement
GSWC's main goals are to improve the quality of life of sex workers and to ensure that their rights are recognised and upheld in all domains. We empower sex workers to advocate for their human rights within the larger society, and recognition of their inherent dignity as human beings. We also work for the elimination of all violence, prejudice, discrimination and other negative and adverse conduct directed towards sex workers.
The objectives of the GSWC include:
Improve the well-being and quality of life of Sex Workers including women and girls through services, education, information, communication, human rights, integrated care and social and economic development opportunities;
Facilitate individuals' access to voluntary counselling and testing services;
Provide risk assessment and risk reduction counselling to individuals to reduce their risk and vulnerability to HIV;
To organise HIV awareness and education programmes that lead to behavioural change in Guyana;
Provide integrated counselling to individuals to enable them to cope with life's challenges;
To provide guidance and voluntary support services to persons living with and affected by HIV;
Facilitate individuals' development in vocational and life skills to enable them to survive in today's world;
To mobilise resources necessary to sustain the work of the organisation;
To facilitate the growth and development of the membership and staff of the organisation.
What is the history of the organisation? How and why was it formed?
The GSWC was officially registered on the 16th March, 2011. It had its genesis in a sex worker led mapping exercise by the Caribbean Vulnerable Communities Coalition (CVC) out of Jamaica. This initial meeting brought together 21 female sex workers from 7 of the 10 administrative regions of Guyana.
The GSWC is one of the first established sex worker-led organisations in the Caribbean. In Guyana, GSWC is the first organisation which started to work with sex workers. The initial activities were focused primarily on HIV awareness, prevention and treatment and care. As the years progressed, GSWC has extended its activities to focus on human rights awareness and advocacy for sex workers, representation of sex workers' human rights and capacity building of sex workers. Sex workers, People living with HIV, Women and girls living with HIV, Young people living with HIV are the main beneficiaries of GSWC.
During the time that the GSWC has been in existence, the activities completed has proven to be quite successful and has led many other organisations to take patter as best practices. The GSWC is recognised as one of the leading organisations in Guyana and the Caribbean fighting for the human rights of sex workers.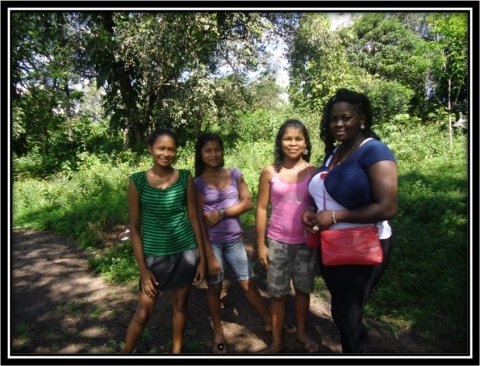 Which countries and/or regions do you work in?
GSWC is a sex worker-led organisation that works in all regions of Guyana.
What is the sex work context in your country/region?
Sex work in Guyana is illegal. As a result of this, sex workers face a number of social, economic and political challenges. This in turn affects not only their access to healthcare, but their livelihood, civil rights, and other determinants of health.  Sex work continues to be heavily stigmatized and effectively criminalised due to prohibitions against brothels and routine harassment by police, stigma and discrimination by healthcare workers and civil society in general.
Do you provide services to sex workers? What kind?
The organisation's main services to the community are in the following areas:
Counselling:
Pre and Post HIV test Counselling
Hygiene Counselling
Integrated Counselling/ Case Navigation
HIV Education and Prevention
Peer Education with Youth
Condom Distribution
HIV workplace education
Adherence & Counselling Sessions
HIV Testing
HIV Rapid Testing
Referrals to other service providers
Life Skills Training
Advocacy and Empowerment workshops
Condom Negotiation
Community Mobilisation Skills
Risk Reduction Skills
Life Skills Competency 
Do you do political work, or campaigns? What kind?
In 2009 / 2010 funding was received from the United Nations Population Fund (UNFPA) through the Caribbean Vulnerable Communities Coalition (CVC) to empower sex workers, peer education workshops and outreach and sensitisation sessions with law enforcement officers such as the Police, soldiers and health care providers. These sessions were garnered at educating this group on the rights of the most at risk population specifically sex workers. Sensitisation sessions were also conducted on stigma and discrimination, human rights and the importance of sex workers accessing services at the different locations.
Achievements include:
Formation of Support Groups for sex workers in all 10 administrative regions of Guyana;
Consistent condom distribution and health related information to sex workers in both urban and rural communities; 
Aided more than 2000 sex workers in Guyana to know their HIV status and access Sexual and Reproductive Health Services;
Intervention with Law enforcement officials and the subsequent establishment of a Help Desk for sex workers at 2 major Police Stations in Guyana. This ground breaking initiative was geared at combating the injustices, discrimination and prejudice that sex workers encounter on a daily basis;
Aided the Sex Work Association Jamaica (SWAJ) to adopt the best practice with the Police and conducted Sensitisation Workshops with the Police;
Empowerment of sex workers on their Human Rights and raising of their self-esteem in Guyana;
Skills building for sex workers in Computer Studies, cosmetology, floral designs;
Built bridges and collaborated with National AIDS Programme Secretariat, Ministry of Health and other agencies to improve the lives of sex workers;
Conducted working with migrant women who are engaged in sex work in Guyana. The organisation provides Support group meetings, sensitisation sessions, condom distribution and facilitation of immigration services .Sensitisation workshops with law enforcement officials and health care providers on sex worker rights and issues.
GSWC is currently working with migrant women who are engaged in sex work in Guyana. The organisation provides Support group meetings, sensitisation sessions, condom distribution and facilitation of immigration services .
How are sex workers meaningfully included in the organisation?
The Guyana Sex Work Coalition has appointed a Board with ninety-nine percent (99%) females since the focus of the organisation is on women, girls and female sex workers. The Guyana Sex Work Coalition believes that it is imperative that sex workers be given an opportunity to implement programs for themselves and be at the decision-making level. Too long funders have sat in their 'ivory towers' dictating down to sex workers. The GSWC strongly believes that sex workers should be given a voice at all forums that involve their welfare.
Tell us about a big event or challenge you have worked on recently. For example, a campaign, a big event you worked on, etc. How did it go? What were the challenges?
In March 2012, funding was received from the PANCAP Regional Stigma and Discrimination Unit Barbados to do the Guyana Berbice River Community Consultation Project in four communities in Region 10 Upper Demerara, Berbice River. This project covered Hurururu, Ladernsville, Calcuni and Kwakwani. This project was a survey on the community knowledge on HIV and AIDS as well as it targeted women and girls to ascertain from them the challenges they face daily. In June 2012 more funding was given as a follow up to conduct empowerment sessions on stigma and discrimination, human rights and domestic violence.
The GSWC has been able to lay a foundation of trust within these communities. Domestic violence and stigma and discrimination are disheartening issues in these areas. Most of the women feel that they should be subjective to the men. Unfortunately, it is a cultural norm. In dialogue with both males and females it was clearly stated by the men that the women should be "submissive" to them. It was recognised that the self-esteem of young girls and women in these areas were extremely low. In addition, the lack of an adequate education especially for the young girls and women was sorely noted. In some communities there is no secondary school and as a result when these young people complete their primary education there are no alternatives for the vast majority of them. Some are fortunate if their parents can pay for secondary education.
The GSWC has set a track record of fighting for the rights of women and young girls.
Terms