Sex Worker Pride began in 2019 and is an opportunity to celebrate and share stories of sex workers' self-determination and the achievements of the sex worker rights movement. Sex Worker Pride extends to all marginalised by criminalisation, discrimination and stigma across the sex worker movement and celebrates the diversity within our community.
On 14 September 2020, NSWP members celebrated Sex Worker Pride by hosting in-person events, digital events, and sharing achievements across social media and online networks.
Asia and the Pacific

In Australia, the sex worker collective, "Debby Doesn't Do it For Free" hosted an online evening of sex worker voices and storytelling. 100% of funds raised from Glory Hole 2 are contributing to the Emergency Relief Fund for Sex Workers, run by Scarlet Alliance. The evening featured stories and words from Despo Debby, Tilly Lawless, Hole_Money, Pris Ile, Billie Blossom, Eden Eros, who?her ?, and SoftBoss.

In Fiji, Strumphet Alliance Network and Survival Advocacy Network SAN hosted an evening of dinner and entertainment in celebration of Sex Worker Pride. The event included the sharing of stories of sex workers' self-determination and a look at the achievements of the sex work movement. Guests were encouraged to wear red. Representatives from the Police, UNAIDS, Rainbow Pride Foundation, Haus of Khameleon, Drug Free World Fiji, Nasinu District Council of Social Services and Fiji Human Rights Commission were all part of the celebration.
Project X - Singapore used Sex Worker Pride to launch their latest merchandise - a reusable fabric face mask designed by a local sex worker. The Project X Pride Mask is solidarity made visible. All funds generated from mask sales will be used to support Project X and their operations to support and empower the local sex worker community. You can preorder your mask here.
Africa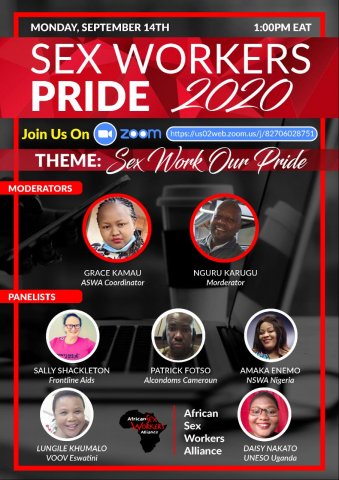 The African Sex Workers Alliance (ASWA) marked the day by hosting an online discussion on sex workers' key achievements. The theme of the discussion was "Sex Work Our Pride". The discussion was moderated by Grace Kamau and Nguru Karugu, and panellists included Patrick Fotso from Alcondoms Cameroun, Amaka Enemo from NSWA Nigera, and Daisy Nakato from UNESO Uganda.
The Bar Hostess Empowerment and Support Programme (BHESP), based in Kenya, honoured the resilience of sex workers, stating:
"With the unprecedented health emergency due to COVID-19, BHESP celebrates the resilience of Sex Workers in responding to the spike in cases of violence among the sex workers community. The pandemic presented a unique opportunity to agitate and advocate for the expansion of protection of Sex Workers Rights which are Human Rights."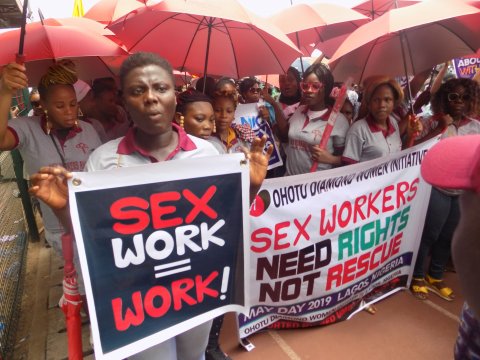 Ohotu Diamond Women Initiative (ODWI) is the first sex worker-led organisation in Nigeria. It was established in 2011 and this Sex Worker Pride day the organisation celebrated successes in 2019.
"We advocated to the Nigeria Labour Congress in 2019 to intimate them of our intention to participate in the 2019 May Day international Workers Day but we were not given a consent. We strategised and arrived the venue of the event as early as 7am and positioned ourselves strategically. We made history that day by participating and it was in the media nationally. That was a great break through for us."
The Uganda Network for Sex Worker-Led Organizations (UNESO) is the national umbrella organisation that brings together all sex worker-led organisations and groups in Uganda in their diversities. To commemorate Sex Worker Pride, UNESO reflected on organisational achievements in 2019:
We conducted a Mapping exercise of sex worker led organizations in 15 districts of Uganda which increased our membership coverage to 26 member organizations
With help from the Uganda Ministry of health, we were able to print and disseminate IEC materials with information on PrEP to sex workers in Uganda.
 UNESO commemorated the INTERNATIONAL WOMEN'S DAY under the theme "Balance for Better" demanding for equal rights for sex workers.  We conducted a press conference and mobilized the sex worker community to donate blood to the national blood bank.  
We conducted meetings with District Health Officers, meetings with stakeholders and sex workers to bridge a gap in respecting of sex workers rights and improve access Health services to sex workers in Uganda.
The network successfully developed her strategic plan which created a sense of direction to strengthen the network and its members.
UNESO lanched the Executive Directors Forum for leaders under a theme "To prioritise Health and wellness for sex worker leaders"."
In Zambia, the Zambia Sex Workers Alliance (ZASWA) shared information on their success building visibility for sex workers with a grant from the Red Umbrella Fund.
"ZASWA through a grant from the Red Umbrella Fund (RUF) conducted a dialogue meeting with key stakeholders in the Copperbelt Province on the 19th of June 2020.The dialogue meeting aimed at raising awareness on the plight and challenges of sex workers in the region. Among the participants who participated were senior officials from the law enforcement agencies and the Human Rights Commission of Zambia. This process was co-facilitated by the National AIDS Council, who are a very important strategic partner in the provision of non-discriminatory and non-stigmatising healthcare in Zambia. The platform resulted in a consensus agreement to sensitise police officers in all the nine districts in the province. This is a milestone achievement for ZASWA at a time when the COVID-19 crisis has disproportionately and adversely affected sex workers in Zambia and across the globe. The dialogue also generated positive feedback and interest from government agencies in other provinces."
This is a milestone achievement for ZASWA at a time when the COVID-19 crisis has disproportionately and adversely affected sex workers in Zambia and across the globe. 
Europe

In Germany, BesD marked Sex Worker Pride by reflecting on their work supporting sex workers during the pandemic.
"From the very beginning of the pandemic until the middle of April, we daily updated our article What Sexworkers (and Everone Else) Should be Aware of Now, which was shared and used internationally by sex workers and organisations. We are documenting the various regulations in the federal states and continue to offer help, support and information to sex workers.
We worked out a hygiene-concept with experts from the health sector, detailing how sex work during the pandemic is possible. 
Since direct social meetings have been discouraged by the government, we have improved the information value and user friendliness of our website, and incorporated a lot of Zoom-events into our work – from fundraising to information-events for the public, to organizing ourselves, to providing places of communication and learning. We have for example established the "Online BesD-Workshops", a sexworker-only program with the intent to help and inform each other on sex work related topics."
Sex Work Polska also spoke about their work in Poland during the COVID-19 pandemic:
"We are very proud of the community fundraiser that we have organised in the context of the COVID-19 pandemics. The Emergency Fund for Sex Workers in Poland allowed us to provide direct support for sex workers who, due to the COVID-19 and pandemic related policies, were subjected to very difficult living situations, lost their income and job,had no means to provide for their basic needs (e.g. food or medicine, rent) and faced crisis of homelessness, deportation, emotional hardship. The Emergency Fund enabled us to support over 150 sex workers in Poland and was also a sign of great solidarity and radical care in our community. The Fund also gave us an opportunity to talk about the everyday challenges faced by our community and to speak up about our claims for decriminalisation, respect and recognition of our work as work."
STAR – The First Sex Collective of Sex Workers in the Balkans released a statement celebrating the power of sex workers and all the successes that have made the collective proud in the past year in the Republic of North Macedonia, especially during the COVID-19 pandemic.
"To support the community of sex workers during the COVID-19 pandemic, STAR initiated a charity campaign to help sex workers in the Republic of North Macedonia who are in a desperate need of financial help, as well as providing them packages with food and hygiene products. STAR has opened a donation account STAR-STAR SKOPJE COVID-19 DONATIONS, in aim to raise funds to help sex workers who are in a really difficult situation." 

New Generation Humanitarian NGO are proud of their HIV prevention project in Armenia.
"3,102 CSWs have been provided with safe boxes including prevention materials (condoms) and education materials (booklets, leaflets, video guides) have been provided with legal support, have been tested for HIV through rapid tests and in sero-positive cases they have been referred to National Center for AIDS Prevention for follow up care and treatment, and have been provided with an opportunity for STIs screening and treatment in the period of 2018-2020 (1,620 people in 2018-2019 and 1,482 people in 2020 until present, and the services still continue to be provided)."
Latin America
Colectivo Seres, A.C, based in Mexico, shared a list of 4 achievements in the state of Guanajuato, including the establishment of a Support Program for Sexual and Reproductive Health of sex workers; training of Health and Human Rights personnel on the importance of offering and providing dignified and quality treatment to sex workers; and the establishment of a joint agenda between the organisation and the State Human Rights Ombudsman.
"Con el apoyo de ViiVHealthCare se estableció un Programa de Apoyo a la Salud Sexual y Reproductiva de las y los trabajadores sexuales, con lo que se aseguró el abasto gratuito de insumos de prevención, acceso a la detección temprana del VIH/Sífilis, capacitación para el trabajo sexual de menor riesgo y acceso a servicios complementarios para la salud. Otorgando un total de 1,424 servicios.
Establecimiento de una agenda conjunta entre la organización y la Procuraduría de los Derechos Humanos del Estado, para disminuir las brechas actuales en materia de Derechos Humanos y trabajo sexual. Espacio donde las personas que ejercen el trabajo sexual tendrán la oportunidad de exponer, analizar y diseñar estrategias que abantan la discriminación en pro de mejores condiciones para su desarrollo social.
Capacitación del personal de Salud y de Derechos Humanos sobre la importancia de ofrecer y brindar un trato digno y de calidad hacia las personas que ejercen el trabajo sexual en el estado de Guanajuato.
Implementación de un Programa de acceso oportuno y de calidad a la Salud para las y los trabajadores sexuales, con apoyo de las autoridades de salud, a través del cual este sector podrá contar con una atención digna, accesible y de calidad."
North America and the Caribbean
The Sex Workers Project at the Urban Justice Center, based in New York, celebrated their work providing immigration and asylum legal services for sex workers and survivors of human trafficking.
"We have celebrated numerous legal wins alongside our clients in pursuit of asylum and other forms of immigration relief. Most recently, SWP has also expanded our education, public and media engagement, advocacy, and organizing efforts through the addition of a Director of Communications and a Director of Research, Organizing and Advocacy. With our growing team, we continue creating a world that is safe for all workers and where human trafficking does not exist."
SWAP (Sex Workers' Action Program Hamilton) and SWAN Waterloo (Sex Workers' Action Network of Waterloo Region) hosted an online film screening of Geraldine George's film "Our Bodies, Our Business" to celebrate the lives of sex workers and to reflect on all that we have to be proud of.