14th September 2019 marked the first Sex Worker Pride, created to celebrate sex workers' self-determination and the achievements of the sex worker rights movement. Many sex worker groups marked the day with events and online actions.
On Sex Worker Pride, NSWP joined GNP+ and ICW in announcing its full support for HIV2020, given the IAS decision to host the 2020 International AIDS Conference (AIDS2020) in a country that has legal travel restrictions for sex workers - the USA - for the second time in a decade. Read the full HIV2020 announcement here.

In India, hundreds of sex workers took part in a march in Mandya City, Karnataka, to advocate for sex workers' rights and mark Sex Worker Pride. With the support of Ashodaya Samithi Mysore, the group also announced the launch of a new sex worker organisation - Ashodaya Mandya – which will campaign for sex workers' rights through an elected governing body.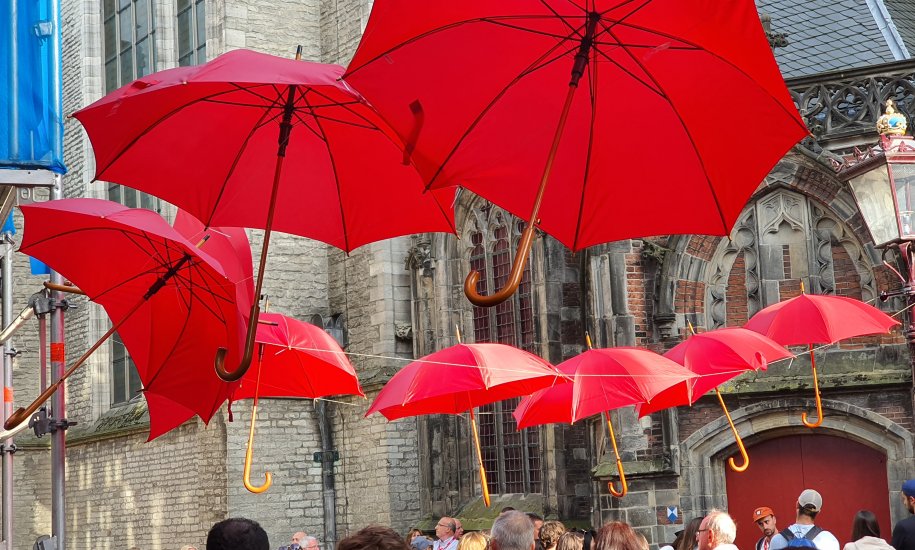 In the Netherlands, the Prostitution Information Center celebrated its 25th anniversary on 14th September. The group shared performances at the Centre and decorated part of the Oudekerksplein and Enge Kerksteeg with floating red umbrellas.
The Asia Pacific Network of Sex Workers (APNSW) published a series of stories from sex worker member organisations from across the region, focusing on Cambodia, Malaysia, Myanmar, Nepal and Singapore. 
In Canada, Maggie's (Toronto) held a film screening of MAJOR, also featuring live performances; SWAP Hamilton (Ontario) also hosted a film screening and social on 14th September, screening historical sex work activist footage; and SHOP (St. John's, Newfoundland & Labrador) hosted an event at their regular weekly drop-in dinner, called "The Fruits of Our Labour" – an evening of watercolour painting inspired by fruit and the ways people use their bodies for work and pleasure.

SWAN released its 2018 Annual Report, detailing its achievements towards advancing sex workers' rights across Central and Eastern Europe and Central Asia. You can read the report here in both English and Russian.
Earlier this year TransR launched the 'trans sex workers' voices' campaign, sharing stories from trans sex workers in Europe in their own words, published weekly in native languages and in English. The group have also published training materials – 'Know your rights' – in English, Greek, Italian, Portuguese, Spanish with info on legislation, health and harm reduction, and personalised for each country.
Legalife Ukraine collected pictures and short statements of support for Sex Worker Pride on Facebook, and published a blog on their new website. 
Scarlet Alliance shared a statement on sex workers' achievements across Australia, and ICRSE shared a statement on their work in Europe:
"At ICRSE, we are honoured to organise and work in solidarity with other sex workers from all over Europe: migrant women from China in France, homeless young LGBTI people in Albania, single mums in UK, male refugees in Greece, Roma trans women in Romania, widows of war in Ukraine… On Sex Workers Pride Day, we wish every sex worker a beautiful day. May you be safe and happy. We got your back"
St James Infirmary in San Francisco (USA) also published a statement, particularly celebrating their 20th anniversary and recent achievements in the USA - including the passing of SB 233 in California. 
In Macedonia, STAR-STAR released a new video:

TransR also shared a new video, calling for support for the equal rights of trans sex workers all over Europe:
"We all share the same feelings, the same wishes but we don't share the same rights"

A member of Sex Workers Forum Russia shared a quote to mark Sex Worker Pride:

In Ecuador, sex workers in Quito workshops with the police demanding respect for trans sex workers

Sex workers across Latin America shared quotes with NSWP to mark Sex Worker Pride:
'A story based on the real world of sex work' – click to read on Facebook.
"Me siento orgullosa de ser Trabajadora Sexual, si tuviera la opción de escoger nuevamente esta profesión, lo haría." 
"I am proud to be a sex worker. If I had the option to choose this profession all over again, I would do it" - MILD: Mujeres Independientes Luchando por sus Derechos.
SWOP Behind Bars / SWOP-USA shared quotes with NSWP on their work during 2019: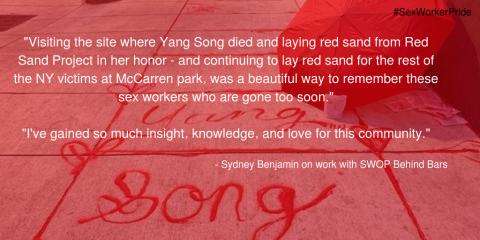 "I've gained so much insight, knowledge, and love for this community" - Sydney Benjamin on working with SWOP Behind Bars.