Imagen
SUCOS is a sex worker-led collective in Suriname. 
Tell us about your organisation
The Suriname Collection of Sex Workers is a non-governmental organisation, fully led by sex workers, established according the model, principles, goals and mission of the Global Network of Sex Work Projects (NSWP) and the Red Umbrella Fund. The official name is DCF – SUCOS Suriname Collection of Sex Workers, founded by Denise Carr who has lived and worked in Suriname for more than 20 years.
What is the history of your organisation?

In 2015 the name SUCOS was given to a group of sex workers who collaborated with a local non-governmental organisation, with general goals for various minority groups. It was later understood that the specific involvement of sex workers was partly due to donor demands that sex workers should have a direct involvement in projects, in the advocacy goals and mission for sex workers and that the sex workers' organisation should have a fully-fledged and registered status with its own decision making board. In April 2018, a board was elected for the sex workers under the umbrella of this CSO. The current executive director of DCF - SUCOS, Denise Carr was then, chosen as the leader of this target group. Due to a lack full involvement of sex workers in decision-making processes, later that year Denise Carr chose to leave the CSO, and worked through a difficult 4-month process to register DCF – SUCOS as its own organisation. DCF – SUCOS now has legitimate status as a platform by and for sex workers through a founding act, and is registered in the trade register of the Suriname Chamber of Commerce and Factories, as an independent non-profit organisation.
Looking back at where and how SUCOS came about, we knew very little about how to set up an organisation and where to start. We were completely in the dark. Because sex work is not legal in Suriname, the name 'SUCOS' unfortunately could not be included in the founding act. The foundation is named after the founder, but SUCOS remain the recognised name of the organisation.
The organisation aims in particular to improve and protect the social position of sex workers. Empowerment and capacity building are central. The goal is to make sex workers resilient against stigma, discrimination and criminalisation. SUCOS works to ensure sex workers are aware that they are citizens who just like others, are entitled to better human conditions and treatment. For the right of access to employment, a fair experience of their human rights and access to education and public health for themselves and their loved ones. Their work in sex work must in no way be grounds for discrimination and gender inequality.
Which countries/regions do you work in?
Although the founding act of DCF - SUCOS allowed the foundation to be active both nationally and beyond the borders of Suriname, only national activities and projects are being carried out for the time being. In the regional context DCF – SUCOS participates in joint development and capacity-building projects of regional organisations and is a member of the Caribbean Sex Workers Coalition.
For example, we worked together with the Department of Justice and police on a project supporting migrants to access resources. We also worked on a health insurance project, jointly with Stichting Staatsziekenfonds, a governmental insurance organisation, and a mapping of police practice in Paramaribo, with another civil society organisation SUCOS is a part of. Regionally, SUCOS has worked with CSWC as part of its Global Fund programme, including hosting a national workshop with key stakeholders, working to influence Suriname's national strategic plan to include sex workers, and forming a key population consortium in Suriname.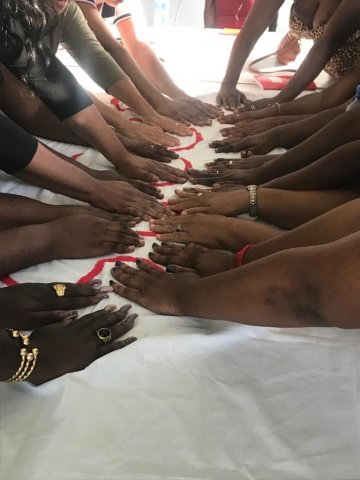 What are the priority areas that your organisation works in?
SUCOS focuses primarily on awareness and capacity building, peer education, with an emphatic focus on preventive healthcare, and protection of the human rights of sex workers. The external activities are currently focused on establishing partnerships and relationships with other sex worker organisations, national and regional governmental and non-governmental organisations, to continually advance sex workers' rights. Our services to sex workers include, regular provision of condoms and lubricants at work sites, providing of information, including about HIV and STDs, first aid care and referrals in case of illness.
How are sex workers meaningfully included in the organisation?
SUCOS is a sex worker-led organisation for female, male and transgender sex workers. Their involvement in the organisation lies in decision-making, the management of the organisation and the implementation of projects. In addition to a board consisting of sex workers, including female, MSM and transgender representatives, individual sex workers are being consulted to give their input to projects and activities. At SUCOS we make sure that for each project, depending on the objective, a group of sex workers is in charge.
For SUCOS, what is the difference between an organisation working with sex workers and an organisation led by sex workers?
Based on our experience and where we come from, it is important for SUCOS that there is a defined difference between an organisation that works with sex workers and an independent platform led by sex workers.
For example, a professional association of medical specialists will find it difficult and often unacceptable to be guided and represented by sex workers, because sex workers are not formal professionals in the medical sector. Sex workers are professionals in their own field and that is much more valuable than what others think they know about this profession.
DCF – SUCOS works on the basis that sex workers have the right to self-determination, to stand up, make decisions and advocate for our own interests in an organised context.
Tell us about something you have worked on recently.
In its relatively young existence, SUCOS has had success in some of its first projects, which have been very meaningful for our members and in terms of public outreach. Right from the start, the organisation has been confronted by the urgent need to advocate for access to health care and tackle the social status of sex workers.
The challenge was that for non-governmental and governmental bodies to work with a sex worker-led platform, sex workers must at least meet the legal requirement to be in possession of a health card and be registered in the public administration. An important part of the target group and in particular the street-based sex workers do not meet this requirement. With grateful cooperation from some female government officials who were sympathetic to SUCOS' story, it was possible to develop a special project for sex workers registered with SUCOS. With minimal donor resources, we made a start on providing an initial group of sex workers with a basic health insurance card. Together with this project, we have also started to address the social status of sex workers residing illegally in the country. This involves migrant sex workers from Latin America and sex workers from the Caribbean. The sex workers from Latin America have different requirements: to gain a two-year status in Suriname they would have to pay a cost of $400USD, while the Caribbean sex workers did not have to pay provided that they had the other required documents.
Both projects have gone through a first phase, where we have established a dialogue with health and police departments to support Caribbean sex workers to register to access services. We want to seek additional funding to support migrant sex workers through a similar process, so this will be a future project for us.  
On internationally recognised days, such as International Sex Workers' Day and World AIDS Day, sex workers, for the first time in Suriname, carried out public outreach and talked openly about their sex work. Together with a partner organisation, one-on-one discussions were held in the city centre with the public and a survey was used to discuss what the community thinks about sex workers and sex work. This is a milestone for SUCOS because it gave the impetus to build up better contact with the public and to discuss issues such as stigma and discrimination against sex workers.
What challenges does your organisation face in the future?
Tackling domestic and gender-based violence, in all its aspects, is one of the priority areas for SUCOS. Gender based violence will, if no professional attention is given to it, result in a (sub-)culture of acceptance, which will undoubtedly affect sex workers.
Another important challenge is access to good quality healthcare for sex workers. The fight against HIV & AIDS, as a world epidemic, is also an important challenge for SUCOS. However, there is no specific national policy for this target group, which is also referred to as a risk group. Special attention was paid to this in the formulated two-year plan of the organisation, in which we undertook specific activities relating to the Global Fund: mapping of key stakeholders to implement a sustainability plan for SUCOS, and identifying opportunities for the meaningful involvement of sex workers.
For the overall challenges, SUCOS urgently needs a transit home for sex workers, more intended as a safe haven in case of calamities, where sex workers can go for counselling or just a pep talk with someone who can listen and give advice. As for many new organisations, there are challenges accessing funds to carry out projects and activities, but also to keep the organisation running.
Does the organisation have a message for the sex worker rights movement? What about for people outside of the movement?
Practising this profession for more than 20 years, I am convinced that there is no such thing as 'special' sex workers rights. We do not need to be set apart from the rest of the community. Sex workers are simply part of the global community and, like everyone else, have the right to all civil rights and protections, without being discriminated against, criminalised or stigmatised for our profession. Sex work is work, and we deliver an underestimated service in society. We need to be respected and not punished. Our struggle is for the full acceptance and the protection of our human rights, our freedoms and the right to be at the forefront of the fight for our own interests.
Terms