Imagen
Peers Victoria Resources Society is a peer-based organisation for anyone currently or formerly involved in sex work in British Columbia, Canada. 
Tell us about your organisation.
We operate out of Victoria, British Columbia on the unceded territories of the Lekwungen-speaking peoples of the Songhees and Esquimalt Nations, and have served the needs of our community for almost 25 years. While we primarily serve the Greater Victoria region, we have supported sex workers in nearby cities and rural areas that lack sex work community organisations and have recently been supporting the creation of new organisations to fill these gaps in services. We have a regular staff of 15 (close to 30 with casual staff), over 30 volunteers, and we train 8-10 practicum students from different disciplines each year. We have a stable board of directors, some of whom have been on the board for close to five years, alongside newer board members. About 65-75% of our staff and volunteers have current or former experience in the sex trade, ranging from street-based survival work, escorting and agency work, to more coercive experiences, with many experiential staff engaging in multiple forms of sex work throughout their lives. We prioritise hiring current or former sex workers with every job posting, and further attempt to prioritise Indigenous, racialised, and trans or non-binary applicants in our hiring initiatives.
What is the history of the organisation? How and why was it formed?
Peers was founded in 1995 by a group of people who met through their involvement in a women's housing program. The co-founders came from both experiential and community service backgrounds and formed the idea for Peers after discussing the lack of sex work-specific services in the city. While initially conceived as an exit-based organisation, as more sex workers and community members became involved, the organisation quickly expanded to support all people involved in the sex trade, whatever their intentions and self-identified needs around their work were. While those accessing Peers services have been predominantly women-identified, Peers has always served all sex workers (including men and trans people), and has recently engaged in projects to promote the access and relevance of the organisation to sex workers of all gender identities. While originally Peers was an acronym for Prostitutes Empowerment Education and Resources Society, as language around sex work shifted over time and reflecting the changing perspectives of the local community, we removed the acronym and changed our name just to Peers Victoria Resources Society.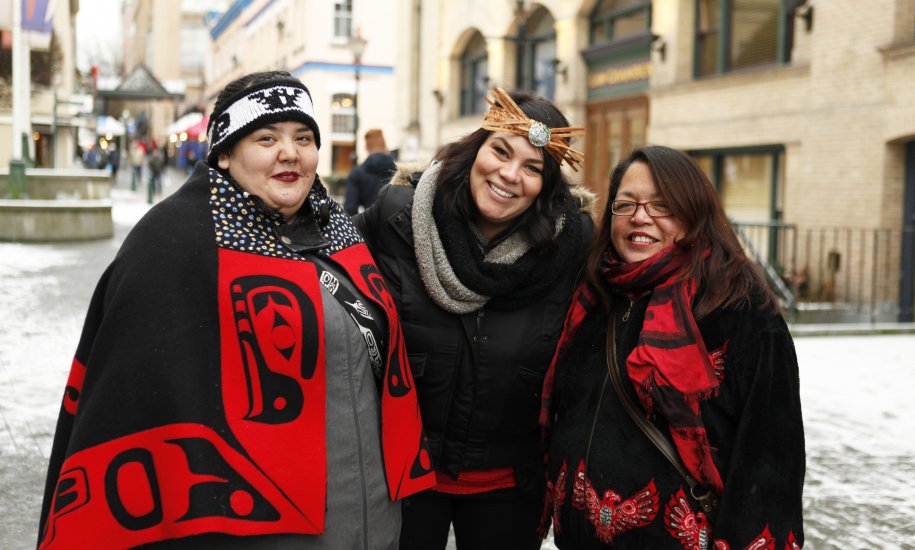 Do you provide services to sex workers? What kind?
Our service approach prioritises harm reduction, social justice, and operating from the perspective of lived experience in the sex industry. We offer a variety of services including: night and daytime outreach, healthcare support and outreach (including HIV and HCV prevention), housing support (operated from a Housing-First perspective), violence prevention and support for survivors of sex work-related violence, trauma-informed counselling, and a drop-in centre that serves two meals a day and hosts a variety of creative, skill-building, informational, and advocacy-based workshops for our participants. We facilitate a variety of peer-led group programming for subpopulations in the sex industry, including: agency and independent indoor workers, trans/non-binary/two-spirit workers; men/masculine-identified workers, and SACRED, a program for Indigenous women and two-spirit workers designed for community-building and cultural-based healing. We also offer Peer Health Advocate Training, which is a program that provides people in sex work with training to act as health advocates. Beyond providing direct services, Peers is regularly invited to offer training and consultation around the needs of sex workers to other service providers, universities, and many other groups. Peers once provided sex worker-based housing of our own, and it is our goal to restart this program in the future.

Do you do political work, or campaigns? What kind?
While historically our work has emphasised direct front-line services, we have also expanded into the areas of training, policy-making, and advocacy. We engage in about 20-25 public training events and workshops through the year on topics ranging from understanding the sex industry locally, to stigma, to more specific topics such as how to support people in sex work with accessible counselling, health care, housing and violence prevention/reporting. Peers regularly consults with and advocates to policy-makers, and federal, provincial and municipal politicians regarding areas as decriminalisation, sexualised-violence, healthcare, and housing. Through our trans, non-binary, and two-spirit program we have also advocated for the needs of gender-variant sex workers and street-involved populations to be reflected in local and national research projects and government policy-making initiatives. We are engaged in coalition-building efforts with other sex work organisations regarding legal advocacy, particularly with regards to government funding priorities and in anticipation of an upcoming Legislative Review on Canada's sex work laws.
Tell us about a project you have worked on recently. 
Our violence prevention program includes our Bad Date & Aggressor Reporting program, where sex workers can report bad or violence experiences with clients to us instead of the police, which we then distribute to local sex workers as a form of community-led violence prevention and safety planning. We recently launched an online database of our Bad Date reports which sex workers can search, and an online reporting form to increase the accessibility of reporting bad dates and promoting awareness of safety issues in the sex work community. Peers planned and hosted a conference for people engaged in bad date and aggressor reporting initiatives across BC, Alberta, Manitoba and the Yukon. We also collaborate locally with other organisations engaged in sexualised violence prevention and support services and participate in provincial and federal committees to improve practice around preventing and responding to sexualised violence in the sex industry.
A big event we've worked on recently is co-founding a working group designed to create a provincial (and later hopefully national) Bad Date & Aggressor Reporting database and network for sex workers across the region, particularly for those in areas without sufficient resources or services. Coming out of conversations at the 2019 Safer Province for Everyone: Responding to Violence Against Sex Workers conference in Vancouver, we have joined several community organisations and agencies attempting to pool our resources and labour to increase violence prevention and response services from a sex worker-lens.
What challenges does your organisation face in the future?
The biggest challenge to this project is funding. A project on this scale requires a lot of time, people, and resources, all of which require a great deal of funding to get off the ground. Connected to this is the obstacle of government and societal attitudes around sex work. Most violence prevention funding in Canada is geared to trafficking or rescue-based programs, with little attention or priority given to community and rights-based services. Similarly, the voices of sex workers are rarely represented in policy-making or funding decisions, which allow non-sex workers to dominate the conversation and claim the authority to dictate sex workers' needs. Finally, while we believe this program is essential, it must be implemented in concert with broader societal and legal changes, and increased services in other areas (such as housing and trauma-informed counselling), both of which will increase the ability for sex workers to gain safety and support and thus prevent violence. Overcoming and addressing these obstacles will be paramount in our work going forward.
These challenges also intersect broadly with the general challenges Peers faces moving forward. Peers has operated without stable or guaranteed funding for a long time. Most of our budget is shorter term project-based grants, and we depend on those grants being renewed to support our staff and services. Further, because funding bodies in Canada typically emphasise a problem, or trafficking/rescue framework, it is difficult to locate sufficient funding, particularly funding that reflects a positive or empowerment oriented perspective. It is also difficult to secure "core" operational funding as we serve a specific group and provide multiple services in a climate where non-profit organisations are increasingly large with a single issue focus. This challenge sometimes makes it difficult to engage in new projects or expand our services, as many of our resources go towards maintaining the work we already do.
Another challenge we face is anti-sex worker stigma. Many civilians, service providers, and policy-makers are resistant or even hostile to accepting sex workers' voices and leadership, particularly when those voices challenge culturally-ingrained preconceptions and biases. While it is not illegal to sell sex (the purchaser is criminalised), outing or identifying oneself as a sex worker still carries enough repercussions that peer-led advocacy can be difficult or unsafe without pseudonyms or privacy protections. These barriers, combined with intersecting marginalisations (such as racism, transphobia, anti-homelessness, and anti-substance-use stigma) can also make it difficult for less visible or under-served populations of sex workers to access services, form community, or be properly represented in the broader sex worker rights movement. Making ourselves more accessible to and inclusive of under-served populations of sex workers is an ongoing challenge to ensure all sex workers who need support and community can access it.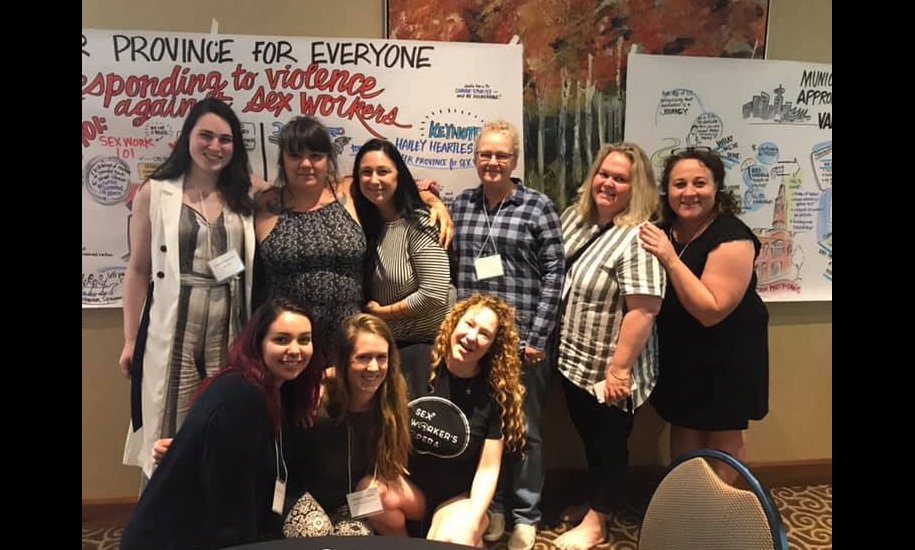 Does the organisation have a message for the sex worker rights movement? 
One message Peers has for both those within and without the sex worker rights movement is that a movement for sex work alone is insufficient for the most vulnerable members of our community. Between 30% and 40% of the 500-600 people who access our services each year are Indigenous, many of our participants have current or former experience with substance-use and/or homelessness, and the proportion of trans, non-binary, and two-spirit sex workers accessing services is continuing to expand. Rights and acceptance around sex work mean less for marginalised workers if colonialism, racism, poverty, transphobia, and anti-substance-use stigma remain unchallenged. Our movement must support and defend the full selves of all sex workers if true safety and respect are to be achieved.
Read more about Peer Victoria Resources Society on their website. 
Terms